BBA/MBA
The BBA or Bachelor of Business Administration is an undergraduate degree in the field of business administration and commerce. In majority of the colleges and universities in India, the BBA degree is awarded to the students once they complete the entire duration of the course successfully which is four years.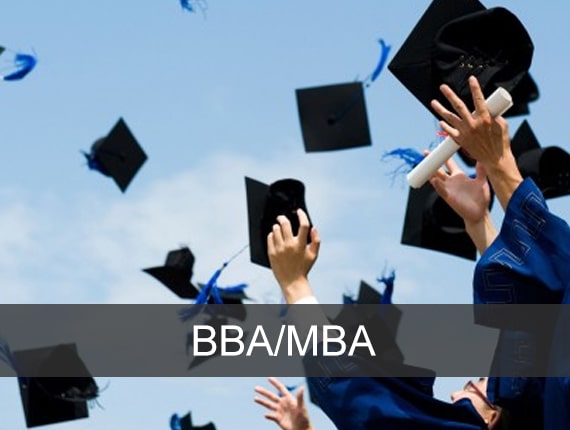 The BBA is a full-time course and entails 120 credit hours in one or over one subject or field of business concentration. The professional course normally incorporates both general business study programs and higher-level study programs for particular concentrations. The Bachelor of Business Administration program has been planned to offer comprehensive awareness about the operational domains of an organization and also their dependent ancillaries. At the same time, the course offers specialization in a particular domain. In this way, BBA study courses in India offer plenty of exposure to the students with regard to a range of "core subjects". The biggest advantage of studying a BBA course in India is that it permits the students to do specialization in a particular subject or field.
The core subjects of BBA in India are as follows:
Business Law and Ethics
Accounting
Financial Management
Economics
Information Technology
Human Resource Management
Operations Management
Marketing
Quantitative Techniques (financial mathematics, business statistics, operations research)
Organizational Behavior
Strategic Management
In addition, students can specialize in the following topics:
Entrepreneurship
Accounting
Real Estate
Finance
International Business
Human Resource Management
Legal Management
Information Technology
Management
Design Management
Marketing
Management Information Systems (MIS)
Supply Chain Management
Operations Management
Tourism Management
MBA or Master of Business Administration is a post graduate program in business administration. The course draws students from different subject areas like commerce and science. The fundamental subjects in the course of study are tailored to acquaint students with the different domains of business like finance, accounting, human resources, marketing, and operations management. In India, MBA degrees are offered in different modes such as part-time, full-time, distance learning, accelerated, and executive.
For complete details Please visit us
---
Related Courses