Educational Loans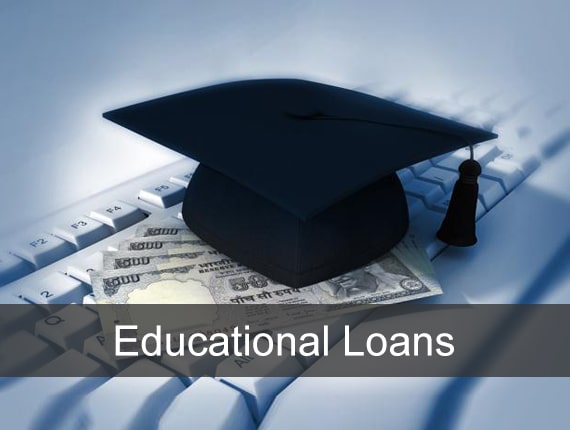 Students shall submit following documents/certificates at any bank for education loan - For Proof of Resident Indians - following documents/certificates will be required to present at any bank
Identity Proofs (Any one of the following)
Passport/Photo PAN card/Defense identity card/Voter's identity card
Driving license/Photo ration card/Government identity card
Identity Proofs (Any one of the following)
Passport/Ration card/Telephone (land/mobile) bill/Electricity bill
Driving license/Society outgoing bill/Voter's identity card/Life Insurance Policy
Proof of age (any one of the following)
Passport/Valid driving license/Voter's identity card/Birth certificate/School leaving certificate
LIC Policy or Premium receipt clearly indicating the applicant's age/Letter from the employer stating the age of the employ
Apply Loan After getting Admission in college/institute.
State Bank of India
Graduation courses/ Post graduation courses/ Professional courses Other courses approved by UGC/Government/AICTE etc.
For Studies in India, maximum Rs. 10 lacs. Abroad, maximum Rs. 20 lacs
Interest Rates for Base Rate 8.00 % w.e.f. 03.01.2011
For complete details Please visit us for SBI-Education-loans
Andhra Bank
School Education/ Intermediate/ Graduation Courses/ Post Graduation Courses/ Professional Courses: Engineering/ Medical/ Agricultural/ Veterinary/ Dental/ Physiotherapy/ Nursing/ Law/ Management/ PGDRIM/ ICWA/CA/CFA/IIM/ IIT/IISC/XLRI/NIFT and other courses approved by State/ Central Government.
All other courses leading to diploma/ degree etc., conducted by colleges/ universities approved by UGC/ Govt./ AICTE/ AIBMS/ ICMR etc., and offered by National Institutes and other reputed private institut
For complete details Please visit us for Andhrabank-Education-loans
State Bank of Hyderabad
To consider second loan to students for prosecuting Higher Studies in India & Abroad
To students who have already availed education loan and prosecuting for higher studies. Financing will be considered within 1 year of completing the course already financed
For complete details Please visit us for SBH-Education-loans
Bank of Baroda
Bank of Baroda presents a one of its kind finance option for parents of students pursuing school education. These loans are available for studies from Nursery to Senior Secondary School.
A loan product specially designed for students pursuing Graduation, Post - Graduation, Professional & Other courses in India. Bank of Baroda extends a helping hand to energize your studies and promote education of the youth.
For complete details Please visit us for Bankofbaroda-Education-loans
Punjab National Bank
Should be an Indian National/Secured admission to Professional / Technical courses in India or abroad through Entrance Test / Merit based Selection process.
Fee payable to College / School / Hostel Examination / Library / Laboratory fee. Purchase of books / equipments / instruments / uniforms. Caution Deposit / Building Fund / Refundable Deposit supported by Institution Bills / Receipts, subject to the condition that the amount does not exceed 10% of the total tution fee for entire course.
For complete details Please visit us for Punjab National Bank-Education-loans
Axis Bank
The quantum of finance under the scheme is capped at Rs 20.00 lacs for studies abroad, which would cover tuition fees, hostel charges (if any), cost of books, etc. The minimum amount of loan would be Rs 50,000.
Third party guarantee and/or collateral security may be asked for in appropriate cases.
For complete details Please visit us for Axis Bank-Education-loans
Corporation Bank
Person already in gainful employment not eligible for loan under the scheme except for pursuing evening course covered under the scheme of approved Institute.
Fee payable to College/School/Hostel /Examination/ Library/ Laboratory/ Purchase of Books/ Equipments/ Instruments/ Uniforms/ Caution Deposit/ Travel expenses/Passage money for studies abroad
For complete details Please visit us for Corporation Bank-Education-loans
Syndicate Bank
Graduation: B.A., B.Com, B.Sc/Post graduation: Masters & Phd.
Secured admission on the basis of merit to professional/technical courses through Entrance Test/Selection process.
For complete details Please visit us for Syndicate Bank-Education-loans
Allahabad Bank
Graduation Courses- B.A, B.COM, B.Sc/Post Graduation Courses: Masters Courses, Ph D/Professional Courses: Engineering, Medical, Agriculture, Veterinary, Law, Dental, Management, Computeretc.
Need based finance subject to repaying capacity of the parents / students with following ceilings:Studies in India: Maximum Rs 10.00 lacs/Studies abroad: Maximum Rs. 20.00 lacs.
For complete details Please visit us for Allahabad Bank-Education-loans
HDFC Bank
You need to be an Indian National/You should be aged between 16 - 35 yrs/Collateral is required for all loans greater than Rs. 7.5 Lakhs.
For complete details Please visit us for HDFC Bank-Education-loans
And you can approach all leading bank in India for Educational loans....
---
Related Courses