Commercial Pilot
A commercial pilot is one, who is the holder of the C.P.L. or the Commercial Pilot License. This is a certificate, which permits the pilot to be in command of an aircraft that is handled by a single pilot or to be a co-pilot of any aircraft, which is handled by more than one pilot. This license is conferred and agreed by the I.C.A.O. or the International Civil Aviation Organization. Many colleges and institutions that are based all over the world offer courses related to commercial aircraft flying. Such courses are pursued by those people, who aspire to be an airline pilot. Being individualized and comprehensive in nature, these courses equip one with the required skills that one need to possess to be the holder of the Commercial Pilot License.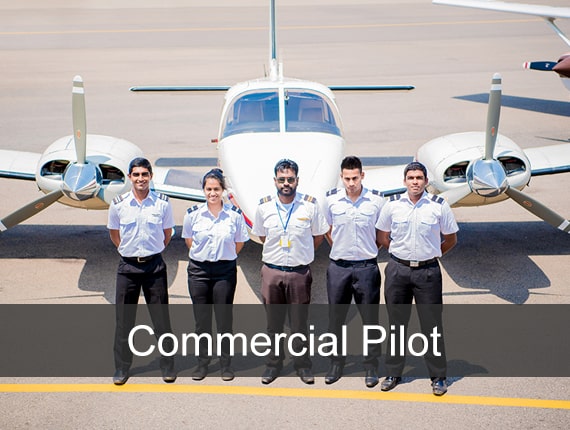 One can pursue such courses in any of the concerned colleges and institutes of the nation once he or she has successfully completed 10 + 2 or higher secondary level of study with at least 50 % marks. A candidate needs to have studied the subjects of Mathematics and Physics at the Plus Two level. In addition to this, the applicant must be aged above 17 years. However, the 1st step to be a commercial pilot is to get trained and acquire the S.P.L. or the Student Pilot License. This is followed by training for P.P.L. or Private Pilot License. After this one can pursue another flying training for duration of around 190 hours, which fetches an aspirant the license of becoming a commercial pilot. All these, as a whole, assists one in getting an in-depth knowledge about flying aircrafts and be a qualified commercial pilot. Post completion of this training course, one can work in any airline company as any of the following professionals:
Charter or Corporate Pilot
Flight Instructor
Float Pilot
Helicopter Pilot
Major Airline Pilot
Military Pilot
Regional Airline Pilot
Major Examinations on Courses of Commercial Pilot in India The different commercial pilot courses involve various examinations, which range from entrance level ones to the tests that help a trainee get the pass certificate of the courses. In the admission tests conducted by the different Indian institutions imparting education on this field, a student is mainly judged on their aptitude for flying. A number of Pilot Aptitude Tests are held from time to time in different parts of the Republic of India. One of the most famous among these commercial pilot entrance examinations of India is the test conducted by the I.G.R.U.A. or the Indira Gandhi Rashtriya Uran Academy, which is a leading flying institute of India.
For complete details Please visit us
---
Related Courses