Civil Services
Civil services are today considered as a prestigious career by the youngsters. The India Civil Services examination is conducted by the UPSC board. Here only the highly ranked candidates are able to get jobs in government offices. There are many types of civil services in India that one can opt for like: the, Indian P and T accounts and finance service, Indian Audit and accounts services. Indian customs and central excise services, Revenue service, Ordinance factories service, Postal service, civil accounts service, Railway traffic service, Railway accounts service, Posts of assistant security office in Railway protection Force, Defense estates service and Information service. The other civil service options are the Railway Board secretariat service, Armed forces Headquarters civil service, etc.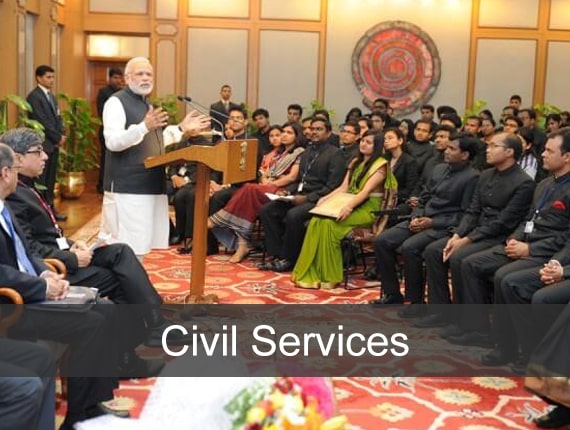 Current Scenario of Civil Services in India Today, many youngsters are targeting civil services as their career as the job provides stability, security and respect that no other job can. The civil service pay and salaries are great and one can also earn benefits, perks and incentives in the form of bonus and the salary too gets increased after a particular period. The job has also maintained respect in the society and is an important part of the government. They help to maintain the working of the nations and helps establish peace and security in all fields.
Entrance Exams for Civil Services
There are various exams conducted by the central government and the state government. One can appear for both. The age limit for appearing for these exams is 21 years to 30 years. One has be a graduate in any discipline and from a recognized university. For the SC/ST candidates there is a relaxation for age and the number of attempts. The entrance exam of the civil services consists of multi-step examination procedure and is completed in one whole year. The All India Combined Competitive exams for the Civil services are conducted by Union Public service Commission that comes two stages. One is the preliminary examination that is an objective type of paper for the candidate selection. The Civil service main examination is written and interview is followed next. The exams are carried for various posts and services all over India. For the preliminary exams one has to obtain a degree from a recognized university and also submit the proof for the same to the particular board. After the preliminary exam, one has to appear for the main exam, which needs one to pass the preliminary exams and then appear for the main examination. After the passing the main exam, one has to appear for the interview conducted by the experts in the field of application.
Top Coaching centres for civil services exam preparation in India
Ambedkar Study circle in Hyderabad
Bigtree I.A.S. academy, Chennai
Career IAS study center, Hyderabad
Center for academic and administrative studies, New Delhi
Dishna Civil academy, Dehradun
N.C.R.D. civil service academy, Kerala
Raos IAS Ras Institute, Jaipur
Renaissance, Gurgaon
Study circle career development, Mumbai
Suyam IAS coaching institute, Puducherry
For complete details Please visit us
---
Related Courses