Dentistry
In India, the undergraduate level dentistry courses are offered in the form of a Bachelor of Dental Surgery or BDS course. The duration of this study program is normally five years. This duration consists of four years of learning and 12 months of internship which is mandatory for the students. As laid down by statistics in the year 2010, India housed 291 dental colleges of which 252 are run by private bodies and 39 are operated by the public agencies.
The dental schools and colleges in India can be categorized into the following: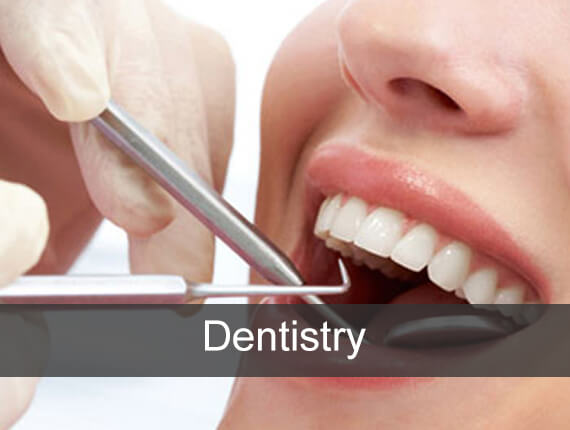 Private dental colleges and schools that are associated with a government university
Government dental colleges and schools as a division of a government university
Private dental colleges and schools as a division of a privately run university.
In majority of the states in India (other than the states of Andhra Pradesh and Jammu & Kashmir), the CBSE (Central Board for Secondary Education) holds a countrywide exam for filling up about 15% of the seats in the dental colleges that are managed by the states. A post graduate degree or master's degree in dentistry (MDS) has a duration of three years. Moreover, this degree gives the students the opportunity to study in a particular area of expertise.
The MDS or Master of Dental Surgery course consists of the subjects listed below:
Periodontics
Prosthodontics
Conservative Dentistry & Endodontics
Oral and Maxillofacial Surgery
Oral Pathology & Microbiology
Orthodontics & Dentofacial Orthopaedics
Pedodontics and Preventive Dentistry
Community Dentistry
Oral Medicine Diagnosis and Radiology
For studying BDS, the students should pass their 10+2 exam or senior secondary examination or any other examination which is equivalent from a recognized board with at least 50% marks. They should have Chemistry, Physics, and Biology as compulsory subjects at their +2 level. In case of aspirants belonging to the SC/ST category, there is an exemption in the marks necessary i.e. at least 40%.
Top Dental Colleges in India
Maulana Azad Institute of Dental Sciences, Delhi
College of Dental Sciences, Manipal
Nair Dental College, Mumbai
Government Dental College and Hospital, Mumbai
SDM College of Dental Sciences and Hospital, Dharvad
Faculty of Dental Sciences, Chhatrapati Shahuji Maharaj Medical University, Lucknow
Government Dental College, Bangalore
Bapuji Dental College and Hospital, Davangere
Dr. R Ahmed Dental College, Kolkata
Government Dental College, Rohtak
Bharati Vidyapeeth Dental College, Pune
SRM Dental College, Chennai
Government Dental College and Hospital, Aurangabad
Tamil Nadu Government Dental College, Chennai
Vinayaka Mission's Sankaracharya Dental College
Saraswati Dental College, Lucknow
K.L.E .Society`s Dental College
Army College of Dental Sciences, Secunderabad
For complete details Please visit us
---
Related Courses