B.Arch
B.Arch or Bachelor of Architecture is an under graduate degree of education. This architectural degree is designed in such a manner so that it satisfies the educational component of professional certifying bodies. To be precise, it is related to designing and planning of buildings and different kinds of architectural constructions. This under graduate level program, generally, continues for a period of 5 years. However, the course can even be pursued post successful completion of a 3 year general architectural degree. In such cases, the duration of B.Arch decreases to 2 years.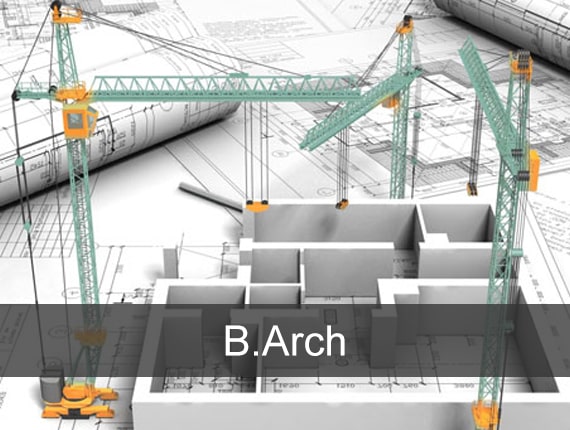 Entrance Exams for B.Arch
One who aspires to do B.Arch needs to pass the entrance examination conducted by the individual institutes, where he or she intends to get enrolled. The most famous entrance examination for B.Arch that is conducted at the national level is the All India Architecture Entrance Examination.
To name a few of the other well known B.Arch Entrance Examinations in India are:
Aligarh Muslim University B.Arch Entrance Examination
Andhra University College of Engineering Entrance Examination
Annamalai University Engineering Entrance Examination
BITSAT or Birla Institute of Technology and Sciences Admission Test
BS Abdur Rahman University B.Arch Entrance Examination
CEED or Common Entrance Examination for Design
Dr.D.Y. Patil Institute All India Entrance Test
Guru Gobind Singh Indraprastha University B.Arch Entrance Examination
Hindustan University Engineering Entrance Examination
IITJEE. or Indian Institute of Technology Joint Entrance Examination
JNTUPA. CET or Jawaharlal Nehru Technological University Planning and Architecture Common Entrance Test
JNUEEE. or Jawaharlal Nehru University Engineering Entrance Examination
Kalinga Institute of Industrial Technology Entrance Examination
Karnataka State Common Entrance Test
Karunya University Entrance Examination
M.T.U.S.E.E. or Mahamaya Technical University Entrance Examination
NATA or National Aptitude Test in Architecture
SLIET Entrance Test or State Engineering Entrance Examination
S.R.M.E.E.E. or S.R.M. Engineering Entrance Examination
T.N.P.C.E.E. or Tamil Nadu Professional Courses Entrance Examination
Vellore Institute of Technology Engineering Entrance Examination
Vinayaka Missions University Engineering Entrance Examination
For complete details Please visit us
---
Related Courses