B.Sc/M.Sc
A B.Sc or Bachelor of Science or Sc.B. derived from Scientia Baccalaureus, a Latin phrase is an undergraduate degree granted for successfully finished study programs which typically have a duration of three years. B.Sc is a bachelor's degree in India which is offered on different subjects and can broadly be categorized into Pass and Honors courses. In India, science colleges offer three-year B.Sc degrees.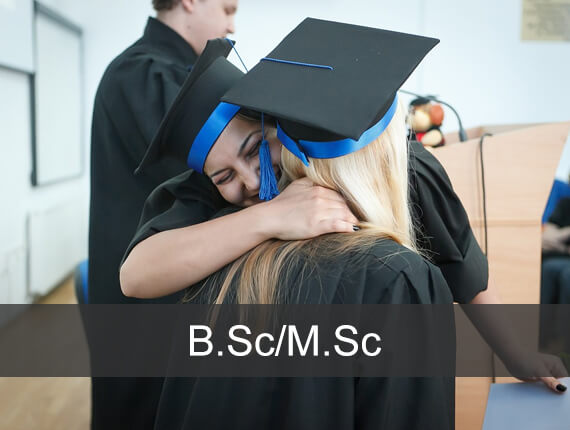 Students have to select the domain of specialization from the different choices that are available. Choices available include B.Sc in Physics, B.Sc in Biology, B.Sc in Chemistry, B.Sc in Biotechnology and so on. Every study program has been planned to fit the necessities of the student. The structure of curriculum for the B.Sc study program is akin to the other undergraduate or bachelor's degree courses. The duration of the program is normally three years. Every year, there will be two semesters. The students need to study Mathematics and English as compulsory subjects in majority of the specialized areas.
Eligibility Criteria for studying B.Sc
For studying B.Sc, the students have to fulfill particular criteria so that they can qualify for the study program. The educational qualifications needed to study B.Sc. are given below:
Diploma holders are eligible to apply for the B.Sc course
Students need to pass the higher secondary or 10+2 level examination or any other equivalent examination from a recognized board
The students should get the minimum marks necessary to get admission to the course according to the cut-off marks stipulated by the colleges and universities.
The students should study science subjects at the time of their 10+2 level
In addition, the age of the students should not be less than 18 years or should not be more than 23 years. This is also a prerequisite for studying B.Sc. in India.
For complete details Please visit us
---
Related Courses