BE/B.Tech
The B.Tech or Bachelor of Technology, typically abridged as B.Tech.(Hons), is a graduation course in the field of technology. The duration of B.Tech is normally three to four years. Only a recognized university-level educational institute or recognized university can offer this degree to the students. Other than India, the B.Tech degree is awarded in the Republic of Ireland, the Commonwealth of Nations, Canada, the United States, Nigeria, South Africa, and many other countries in the world. Privately run and public colleges and institutes in India offer the B.Tech degree in the following subject areas: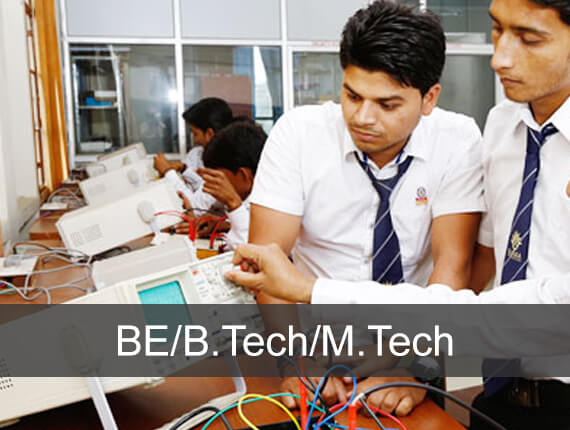 Computer Science and Engineering
Applied Electronics and Instrumentation
Electronics (Communication & Instrumentation) Engineering
Information Technology
Nanotechnology
Mechanical Engineering
Automobile Engineering
Electrical Engineering
Agricultural Engineering (Food Technology Engineering)
Chemical Engineering
Mechatronical Engineering
B.Tech qualified students can either go for higher education or look for employment opportunities. If they decide to go for higher education, they can select post graduate study programs like MBA (Master of Business Administration) or even M.Tech/MS in India and other countries. If they think they will look for jobs then they can apply for technical and non technical positions.
Eligibility Criteria for B.Tech
Students who are interested to study B.Tech have to fulfill the criteria given below:
The aspirants should pass their 10+2 or any other equivalent 12th standard examination from a recognized board
The minimum age of the students should be 18 years and maximum age 23 years
They should study Chemistry, Physics, and Mathematics as compulsory subjects at their higher secondary or 10+2 level
Most of the colleges and institutes ask for a minimum of 50% marks in their 10+2 examination
They should study English as a compulsory subject in their 10+2 level
A number of institutes and colleges also necessitate 60% marks in each of these subjects i.e. Physics, Chemistry and Mathematics.
Engineering Entrance Exams in India. Given below is a list of the B.Tech Entrance Exams in India:
Indian Institute of Information Technology (IIIT) Allahabad B.Tech Entrance Exam
All India Engineering Entrance Examination (AIEEE)
Aligarh Muslim University (AMU) Engineering Entrance Exam
Anna University Engineering Entrance Exam
Uttar Pradesh State Entrance Examination
Vellore Institute of Technology B.Tech Entrance Exam
Graduate Aptitude Test in Engineering
Indian Institute of Space Science and Technology IIST B.Tech Entrance Exam
IIT Joint Entrance Examination
The NERIST Entrance Examination Arunachal Pradesh
Arunachal Pradesh Engineering Entrance Exams
Bihar Combined Entrance Competitive Examination (BCECE), Bihar
Pune University B.Tech Entrance Exam
Engineering Agricultural and Medical Common Entrance Test (EAMCET), Andhra Pradesh
Common Entrance Examination (CEE), Delhi
Common Entrance Examination (CEE), Kerala
B.S. Abdur Rahman University Engineering Entrance Examination
Gujarat Engineering Entrance Exam (GUJCET)
Guru Govind Singh Indraprastha University (GGSIPU) Common Entrance Test
Punjab Technical University (PTU), Jalandhar Common Entrance Test (CET)
Chaudhary Charan Singh University B.Tech Entrance Test
LNM Institute of Information Technology B.Tech Entrance Exam
Sikkim Manipal Institute of Technology B.Tech Entrance Exam
Karnataka Common Entrance Test
Amrita Schools of Engineering B.Tech Entrance Exam
Karunya University B.Tech Entrance Exam
KIITEE - Kalinga Institute of Industrial Technology Entrance Exam
SRM EEE - SRM Engineering Entrance Exam
Jamia Milia Islamia (JMI) Engineering Entrance Examination
Common Entrance Examination (CEE), Assam
Combined Entrance Examination (CEE), Tamil Nadu
For complete details Please visit us
---
Related Courses